KamehHahmeh HAAAAH
-Gowkew is a strange version of Goku and 
Weegee
. His friends are Pikoloh, Mahrohn, Awndroehd 18, Awndroehd 16, CheyChey, The Awx Keeng, Mastah Roshee, Yahmchaw, Gowhahn, Gowtehn, Pawn, 
Weegee
, Bulmah , Truhnkz, and Vehgetaw. His rivals are Wawegeee, Turrlz, Slawg, Coolahr, Freezah, Awndroehd 17, Dr. Mou, Dr. Seroh, Rawdits, Gehnerawl Rilldow, Ginyou, Jass, Kawmeh, Keeng Pikoloh, Bahbeh, The Shedow Drahgohns and Sell.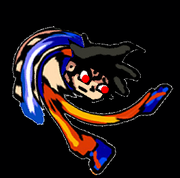 Ad blocker interference detected!
Wikia is a free-to-use site that makes money from advertising. We have a modified experience for viewers using ad blockers

Wikia is not accessible if you've made further modifications. Remove the custom ad blocker rule(s) and the page will load as expected.